This made me laugh so I thought that I should share: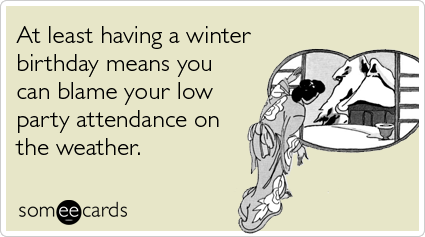 I can't remember a year where it didn't snow on my birthday, a day before or a day after my birthday or somewhere in the near vicinity.
Last night was bachelor night! I was invited by
Kate
to a bachelor girls night. Nothing better than delicious food, wine and critiquing everything there is to talk about when it comes to reality show relationships. We had so much fun watching and also reading people's reactions on twitter. I think it actually finally pulled me into twitter, I was a disbeliever for so long. I won't do a recap of the show, but I will just say Ben F., I do not like you as much as I did when you were on Ashley's season. You seem like a nice person, and I think that in the real world you are probably awesome, but ABC sure does portray you as pretty boring and kind of dumb when it comes to these girls. Good luck finding true love in Courtney ;-) (please don't pick her, please don't pick her, please don't pick her).
The sun is shining and it isn't 32 degrees outside today! That is a win in my book! (ehhh...winning?? right Courtney?) Lol.