Today is one of those days where I am so sleepy I am just completely out of it. I am coasting through the day, staring at the clock and thinking of the sweatpants I will put on when I get home and the warm, cozy blankets I can sit under to watch TV and be lazy all night long. After carving pumpkins of course.
This is how I feel to a tee: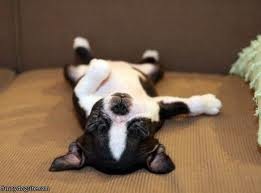 Hppy Friday! Enjoy tolerate the snow tomorrow. Snow in October?!?!
Also, enjoy this video (I am pretty sure it is a commercial). It is silly but I think it sends a great message.